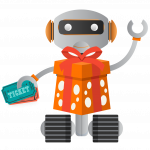 Get Your Audience Talking!  Automate Conversations Across Multiple Direct Messaging Platforms...
All From A Single App!
Givebot's Patent Pending Conversational Incentivization Engine Encourages Users To Connect & Subscribe Across Google, Facebook, Instagram, Twitter, YouTube, WhatsApp, SMS Messaging, Email & More



The Givebot automation and incentivization platform encourages users to connect, converse and subscribe to your social media and direct communication channels.
The various apps included in our platform enable your users to easily communicate and connect across multiple channels instead of just a one.
Your users will direct message you, text message you, prioritize your emails in their inbox and be more willing to receive your company's sales, marketing and customer oriented messages.
And consumers can rest assured knowing that their private data is always safe and will not be shared with any business without their explicit permission.